Music
We believe that all children in the school should be taught the skills to enjoy music; to be able to remember these skills when they leave school and later in life, and to be able to use them to listen to, create and re-create music.
Lessons are essentially practical, with theoretical, historical and cultural elements being taught through practical music-making. GCSE and A level lessons become more historical and theoretical, but there is still a strong creative element, which is fostered by intensive one-to-one work on composition and performing activities.
It is one of the strengths of the department that large amounts of extra time are given to pupils who wish to develop their composing and performing skills, both in class and outside, with the emphasis on tailored one-to-one work.
Our key resources are our people: specialist music teachers in both the Senior and Junior Schools and a team of 12 dedicated, inspirational visiting music staff, who teach individual lessons and some ensembles, guide pupils through their practical examinations and prepare them for performances.
Year 7-9 Music
Pupils study a range of skills from classical score reading to twelve bar blues, and from Latin American dance rhythms to contemporary song writing. If they want to play in a rock band, develop their love of jazz improvisation, compose for a string quartet, or maybe try something completely new, they will find support and enthusiasm in the Music Department.
Challenge & Extension: Many pupils take advantage of the wide range of co-curricular groups on offer or are encouraged to set up their own. All enjoy participating in informal concerts, open mic sessions, formal evening concerts throughout the year and at Christmas and other religious events. Our pupils give some exceptional performances both in school and in the wider community. Pupils also make up the bands for large scale school productions, which in recent years have included Godspell, Little Shop of Horrors and Beauty and the Beast.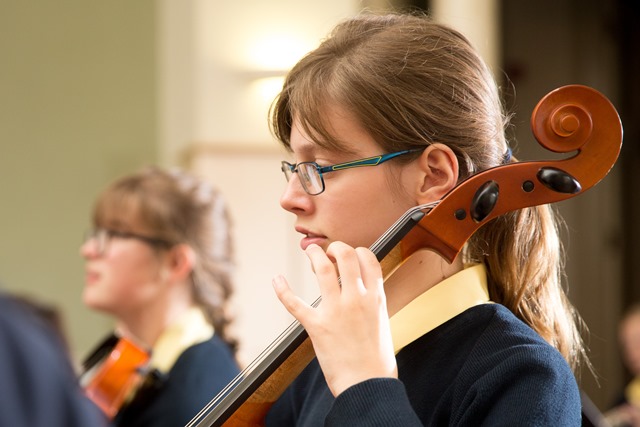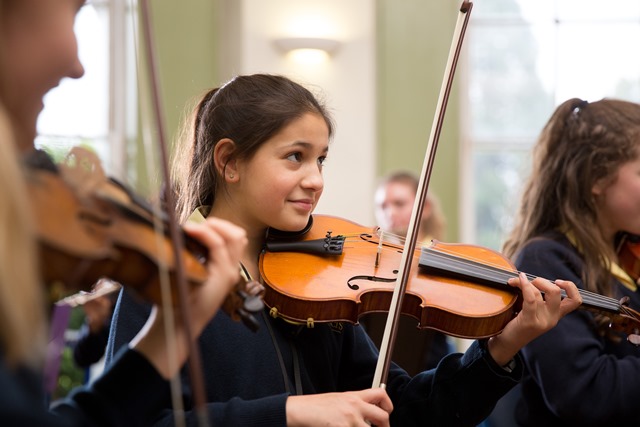 Year 10-11 Music GCSE
This course broadens pupils' musical horizons and sparks their creative interest in composition. Using Sibelius music software to notate their compositions, pupils will have many opportunities to hear their work performed throughout the year, as well as in special sessions with visiting professional musicians.
Challenging and fun, the course is suitable for anyone who already has a keen interest in music. Pupils explore music across a huge range of genres including classical, jazz, pop and world.
Challenge & Extension: A variety of choirs, orchestras and instrumental groups ensure able musicians have the opportunity to perform at the highest levels. Bespoke guidance and tuition is given to pupils who show a considerable aptitude for composition.