Holocaust Survivor Talk by Rudi Oppenheimer

On 21 February students studying history from year 9 and above were given the opportunity to attend a talk given by Holocaust survivor Rudi Oppenheimer.
Rudi, along with his older brother Paul, younger sister Eve, mother and father, was deported to the concentration camp Bergen Belsen in Northern Germany as 'Exchange Jews'. Although Rudi talked us through many of the horrors that he endured, such as the death of both his mother and father in Bergen Belsen, he also projected an uplifting message as he finished the talk by showing all that he has accomplished in his post-war life, including travelling the world with his job. Seeing how somebody can be so successful in their life after having lived through the hardships that Rudi had was truly inspiring.
With Rudi's simultaneously heart-warming but heart-breaking stories about his life in the concentration camp and the years leading up to his family's deportation, all of the pupils and teachers who attended were reminded of the importance of listening and learning from survivors like Rudi in order to prevent such atrocities from ever happening again.
Sofia G. Year 12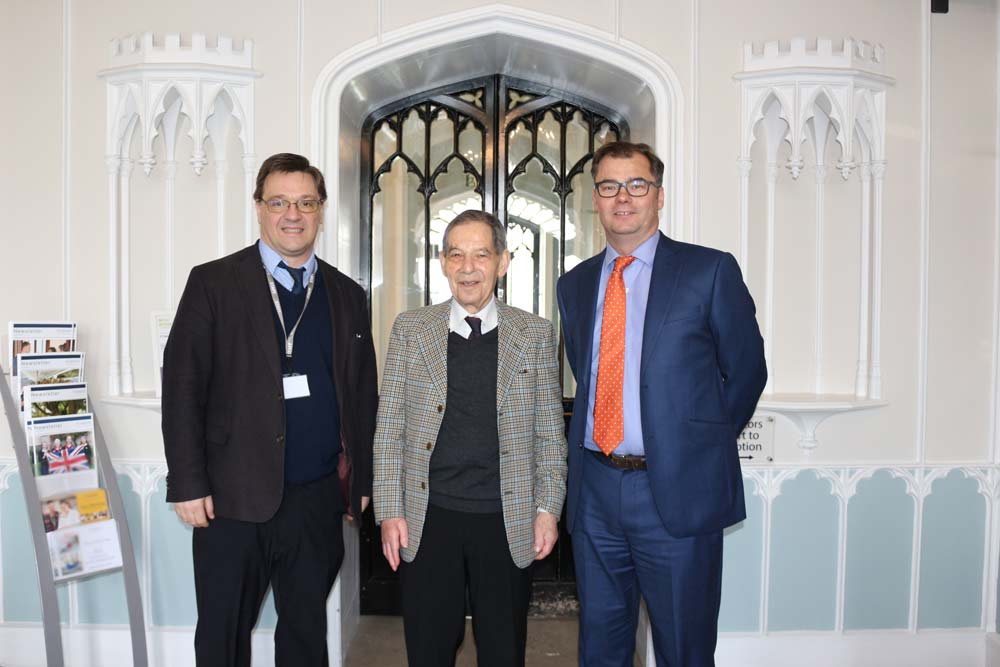 Rudi's Biography provided by the Holocaust Educational Trust
Rudi was born in 1931 in Berlin and lived there with his parents and his older brother Paul until he was four years old. In 1936, to escape increasing Nazi persecution, the Oppenheimer's managed to move to Holland. Before they moved to Heemstede in Holland, Rudi lived for six months in Britain with his mother and brother. It was here that his sister, Eve, was born.
In May 1940 the Nazis invaded Holland. By October 1942, Jews were being rounded up and deported. Rudi and his family, who had been living in Amsterdam since May 1942, were temporarily spared deportation as his father was working for the Jewish Council.
As Eve had been born in the UK, Rudi's father registered her in June 1942 as a British subject. Rudi`s family were now classified as 'Exchange' Jews, which meant that they might be exchanged for Germans captured by the Allies and were to be exempt from certain measures taken against other Jews. This allowed Rudi and his family to remain in Westerbork until February 1944, at which point they were deported to Bergen-Belsen in Germany.
As Exchange Jews, Rudi and his family received certain privileges in Bergen-Belsen. Nevertheless, the family suffered terrible living conditions and in January 1945, Rudi's mother died, followed two months later by the death of his father.
On 10th April 1945, the Oppenheimer children were on the last train to leave Bergen-Belsen. After travelling for 14 days they awoke on the train to find that the SS guards had gone; they recognised soldiers from the Russian army and realised that they had been liberated. The Oppenheimers had family in London, so it was here that they headed to join their uncle and aunt. Rudi is now retired and talks regularly about his wartime experiences in schools and universities across the country.