Interview - Mr Mannion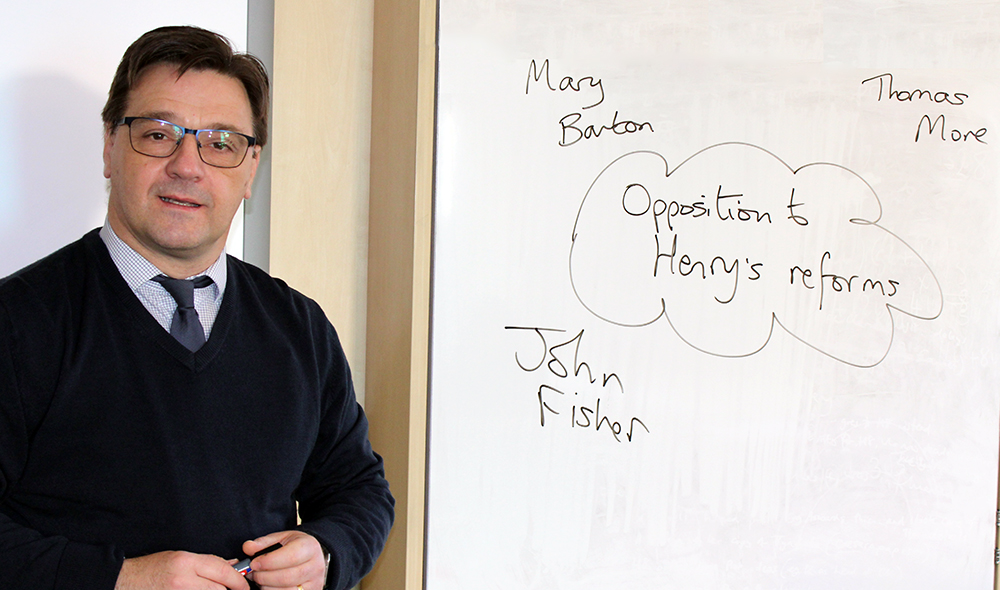 Can you tell us about your education?
At the start of my sixth form education I caused a bit of a stir by asking to do A Level history without actually having sat the O Level. I found I had to argue quite strongly for what I wanted but the school eventually agreed and I was one of only two students the following year to achieve a grade A. Looking back I am glad I stuck to my position - I knew I was a good fit for the A level having been directed away from humanities subjects and towards sciences at O Level. No one would ever describe me as a natural scientist! I went on to study history at Sheffield and started teaching in 1986. For my first five years I worked at a junior school in Liverpool which I also regard as a key part of my education. I learned a great deal about teaching there and the children of Toxteth taught me most of it! I think the other really key moment in my education was when my first headteacher brought a BBC Archimedes computer into my classroom one Friday evening, the first I had ever seen that used something called a mouse and a GUI. He said,"It's the future so learn how to use it and teach the rest of the staff on Monday!" I took his advice and taught myself to write programs at night class. I suppose my experience is that your education continues long after you have left school.
What inspired you to become a teacher?
I am Head of Computer Science and also teach history. I came to St Gabriel's as Head of ICT in 1998 and quickly developed a close working relationship with Rebecca Payton and Sue Cocker who were successive Heads of History. Both appreciated that I still loved my degree subject. They invited me to help out in their department and it grew from there. I am an examination marker for Edexcel and still get as much pleasure from my work as I ever did.
What do you like about teaching history?
I enjoy the interaction with pupils. History gives us all the chance to explore questions and form ideas. I love to help pupils develop complex answers to open questions. It is an important life skill Helping them to spot and develop links between different reasons is great fun and hugely rewarding. Sometimes you can picture a pupil in the future doing just that with a group of colleagues – making a real contribution to improving others lives in a significant way. I also laugh a lot in my history lessons. For TuneUp Tuesday I played the trailer for Six to my Year 11 group who are currently studying Henry VIII and his ministers. Quick as a flash they suggested that after lockdown we should head for the West End to see the musical and check it out for historical accuracy! That made me laugh!
Do you have a favourite period in history and why?
The Spanish Civil War has inspired me since me since studying it at degree level. I often wonder about the choices I would have had to make as an eighteen year old at that time. I lived and worked in Spain as a teacher for three years and loved visiting key locations to learn more about the period. The Cold War and British politics since 1945 also fascinate me.
What ways do you help students to think historically?
It is important to foster an atmosphere where all opinions are equally valued and every pupil feels confident about sharing ideas. In our lessons it is important to challenge, question, nurture and enthuse. And that's just the pupils! Helping pupils to explore the provenance of sources and make connections – it is great fun uncovering multiple reasons why a particular statement was made, image created or photograph used.
Who is a fascinating historical figure and why?
There are so many. Nye Bevan, Health Minister in Clement Atlee's government, launched the NHS – a remarkable accomplishment given the obstacles he faced. My mother worked in the first NHS hospital in Manchester for many years before raising her family. That connection is very important to me. Katherine Johnson passed away earlier this year and was a remarkable woman who devoted her life to fighting all forms of prejudice and also contributed enormously to the success of flights to the moon. I would also add Neil Armstrong and La Pasionara (Isidora Dolores Ibárruri Gómez) to any list.
Has much changed over the years teaching History at St Gabriel's?
Mainly the technology – we have had a fully functioning virtual learning environment at St Gabriel's since 2006. Portals are now ubiquitous and have proved invaluable during the pandemic to every school. Pupils can write an essay electronically, submit it and have it marked without pen touching paper in the process. That is quite a transformation in the time I have worked here!
We have a wonderful resource on our doorstep in Greenham Common. It will continue to evoke stories for history teachers at school to use in their teaching. However, one thing that must never change is Mrs Hammons' much copied practice of using sticky back plastic on every history exercise book after they have been lovingly decorated with the themes to be covered for a particular year group. Many have tried but few have ever matched her devotion to this ritual at the start of each school year!
What recent global events do you think will be covered in history lessons in the future?
This pandemic has thrown into sharp focus the inequalities that exist in the world and they must be addressed with honesty and justice. It will inevitably feature in history courses in years to come as a source for analysis and debate. I can see the questions forming now! "Lockdown demonstrated the spirit of the British people at its best." Do you agree with this statement? And "Boris Johnson's role in the 2020 pandemic: Genius or Buffoon?"
Have you seen many students go on to study history at University?
Yes , many over the years. The history department is a wonderful team. Mrs Shillaw, Mr Lewis, Mrs Hammons, Miss Halstead and myself really look forward to results days each August.
What advice would you give to students interested in studying history?
Own the decision to study history and love every minute of it!