Top 20 Nursery Award

We are delighted that for the fourth year running we have been awarded a 'Top 20 Recommended Nursery 2019 Award'. The awards highlight the most recommended nurseries in each region of the UK. The awards are based on over 78,000 reviews from nursery parents and recognise the best nurseries although there is no final ranking within each of the Top 20 awards.
'As Nursery Manager I am so very proud of achieving this award for the 4th year in a row! It is a true reflection of the hard work and commitment given by our staff team. Thank you to the parents, staff and children for their continued support'.

Katie Noonan, Nursery MANAGER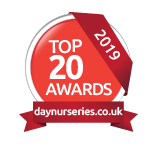 St Gabriel's Principal, Ricki Smith also recognised the important of excellent parent partnerships in running a Top 20 nursery, the fact that the awards are based on reviews from parents makes this recognition even more special.
"Our staff in Sandleford Nursery provide a warm, caring and supportive environment for our youngest children to flourish thus providing a smooth transition into Reception and the Junior School."

Ricki Smith, Principal